Mercruiser Mechanic Brisbane
If you've been looking for the best to take care of your pride and joy, your Mercruiser engine, you can officially call off the search party. Aquamarine Repair Services is based in the Redlands and services most of Brisbane and South East Queensland. We have more than two decades of experience within this industry, so you can rest assured you're in good hands when you come to us.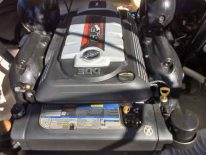 Our experienced mechanics offer regular servicing to your Mercruiser engines, as well as other makes, throughout Brisbane, helping you to keep them in top condition to prevent problems with your engine at a later date.
Due to their nature, marine engines are prone to many issues that can affect the performance of your engine, and these issues often result in more costly repairs and services. To avoid these costly repairs, we recommend frequently investing in high-quality services to your boat to ensure it doesn't face such problems.
Brisbane's Best Mechanic for Mercruiser Servicing
We have compiled some maintenance tips you should check on a regular basis that can help you keep your engine in good condition between its regular mechanic servicing. If you notice any issues with your boat engine, then we recommend getting them before checked as soon as possible to avoid major repairs.
Regular Maintenance Tips
Most engines fail due to the gaskets or raisers leaking back into the engines and so, raiser elbow gaskets and elbows need to be checked regularly for any signs of corrosion
Spark plug leads must be very tight when pushing on lead caps onto spark plugs, so the spark can't escape
Battery voltage is crucial due to the fact that it runs the engine management and if low can damage that
Battery cables must be well earthed with star washer
Fuel Filters need to have water traps so that the fuel can be monitored and water in the fuel filter can be drained
Safety tips
Engine rooms should have gas detectors or carbon monoxide detectors
Bilge blowers should be checked and run before and while the engine runs
Fuel tank hoses should be checked for cracks or worn hoses
Check for any fuel leaks or oil leaks from the hoses
Check the fuel line for any cracks or worn spots
Check the fuel primer bulb is not cracked and is pliable
Check the fuel-line fittings are sitting properly and do not leak
Check the clamps on the fuel line are not rusting or corroding
Check the fuel tanks to make sure that they are not damaged or corroded
Check the tank's vent to make sure that it can aspirate properly
Check regularly for water in the fuel
Delivering a wide range of services for your convenience
Further to the specialist Mercruiser mechanic servicing, we're able to provide in Brisbane and on the Gold Coast, we can also help you if you're looking for a completely new motor for your boat, we can talk you through the pros and cons of using a Bitron fuel additive, and our repair abilities span across all types of inboard and outboard engines. Call us at 0430 985 623 if you'd like to find out more about what we can do for you, or you can send us a message.
Aquamarine Repair Services specialise in the servicing of many popular brands, including:
Please contact us if you have another engine that is not listed here, as we are more than likely able to help!
Are you trying to find "Mercruiser engine repair near me"?
 If you are searching for a marine diesel mechanic for a repair or service on your boat, the last thing you'll want to do is move your boat to take it to a mechanic in your area. For this reason, our skilled mobile boat mechanic team can come directly to you and your boat, so you don't need to fuss and waste your time travelling to a mechanic. So, don't bother googling "Mercruiser repair near me" or "Mercruiser boat repair near me" and settling for an inferior mechanic simply out of convenience. The Aquamarine Repair Services team are known as the inboard diesel engine servicing specialists. Your boat is safe in our mechanics' skilled hands.
Do you have any questions about Mercruiser service?
Please feel free to contact our friendly team by pressing the Contact Us button

Do you need a quote?
Please press the FREE Estimation button