Boat Mechanic Brisbane
Aquamarine Repair Services is your No.1 Mobile Mechanic in Brisbane and on the Gold Coast!
Aquamarine Repair Services is a boat mechanic Brisbane mobile marine company, containing in excess 21 years experience providing quality boat engine services and repair. Servicing all makes of outboard and inboard engines and offering a vast range of services to help you keep your vessel in great shape and on the water.
Have the following systems been checked on your vessel recently?
De-carboning of engines (stops stuck rings)
Are you using the correct flushing agent on your engine?
Water pressure (gauges & alarms)
Float switches, bilge pumps and warning lights
Charging systems (correct battery set-up with voltage regulator)
We recommend that you have these items checked on your vessel at least once a season to ensure a safe and enjoyable trip out on the water.
Boat Mechanic Brisbane and Gold Coast
In addition to our general servicing, we specialise in:
servicing all makes of engines
electrical
trailers
winches
cooling systems
automatic trim tabs
fitting of any electrical components (fridges, depth finders, sound systems, VHF radios)
We have collated some tips and best practices to help you with responsible boat repair and maintenance. These tips will not only extend the life of your boat and reduce the likeliness for costly repairs, but also helps ensure boating safety for those aboard.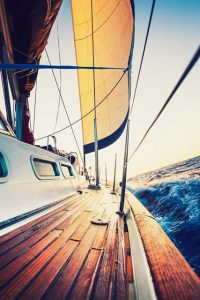 Cleaning & Care – Washing your boat on a regular basis is a good routine to get into. It will help counteract the long-term effects of environmental wear and tear. We also recommend routine waxing and anti-fouling to protect your vessel from the elements.
Battery Care – Check that your battery is properly charged and that it has the correct fluid levels. It is also a good idea to keep your battery clean and inspect the batters surrounding environment, as dampness and dirt can also drain your battery.
Regular Inspection – Always keep your eye out for general wear and tear such as loose fittings, fraying robes; the small things are just as important.
Engine/Motor Care – Flush your engine after every use and check everything from your fuel tanks to clamps on your fuel line for rust, damage or corrosion. It is also important to check that your engines cooling system is functioning correctly. Additionally, check your oil is at the correct levels, has proper filtration and is clean.
Bilge Pumps – Check that your bilge pumps are functioning correctly and that your battery system is holding enough power to run the bilge pumps for a prolonged period of time.
Electrical – Regularly check the surrounding environments of the electrical components are dry, electrical fittings can be protected with a water-repellent, non-conductive grease or corrosion inhibitor.
However, even when you maintain and care for your boat to the highest degree, malfunctions and breakdowns may still occur, and in this case, our mobile boat mechanic Brisbane and Gold Coast can help you.
Contact us for mobile boat mechanic Brisbane service